Below is a list of the events and celebrations that took place in 2008
[for details and photos, Click on the event]:
Tuesday, January 29, 2008 - Lecture/presentation by Shirley Mask Connolly atSt. Paul University in Ottawa. Topic: Celebrating the Kashubs in Canada 1858-2008. . Sponsored by the Polish Institute of Arts and Sciences in Canada, Ottawa Branch, along with the Wilno Heritage Society and the Polish Heritage Institute Kaszuby.
Saturday, February 16, 2008 - Multicultural Hockey - Polish Hussars vs Kashubian Griffins at the Paul J. Yakabuski Community Centre in Barry's Bay . Time 7:00 pm
Sunday February 17, 2008 -a Heritage slide presentation on Kaszuby, Poland by David Shulist and Shirley Mask Connolly at St. Casimir's Church Hall, Round Lake, Ontario.
Saturday March 8, 2008 - Multicultural Curling at the Curling Club in Killaloe from 8:00 am to 8:00 pm
Friday March 28 ,Saturday March 29 and Sunday March 30, 2008 - Opeongo Heritage Cup Matches in Barry's Bay at the Paul Yakabuski Arena with the Polska Eagles, Irish Shamrocks, German Black Eagles & the Algonquin Thunderbirds vying for the Opeongo Heritage Cup; and the Polska Eagles Men's & Women's teams vs. the Irish Shamrocks Men & Women's teams playing for the Opeongo Heritage Bowl
Thursday April 3 to Sunday June 22, 2008 - Special Exhibit: at the Bytown Museum in Ottawa; "Celebrating the 150 Anniversary of the arrival of the Kashubs to Canada". Curated by Shirley Mask Connolly (Also: see Photos from official opening on May 6, 2008.)
Saturday April 12, 2008- Radio Kaszebe - Start of the first Polish Kashub Radio show on Valley Heritage Radio - CJHR 98.7FM - hosted by David Shulist and Ray Chapeskie - every Saturday from 8:00 am to 10:00 am
Saturday April 26, 2008 - Polish Dinner at the Opeongo Seniors Centre in Barry's Bay. Polish songs by Marek Milan; square dances, line dances and Polish Folk dances. Polish Cuisine by Chef Daniela Kozicki.
Sunday April 27, 2008 - Special Polish Mass at St. Hedwig's Church in Barry's Bay at 12:00 p.m. celebrated by Monsignor Ambrose Pick; followed by the parish's annual Polish Kashub Tea 2:00 - 4:00 pm. Girls in Polish Costumes, Music and Raffles and Door Prizes.
Saturday May 3, 2008 - KASHUB DAY - at Canada's Polish Kashub Heritage Park in Wilno. Unveiling of new family homestead stones and program featuring the Kashub Language, Music and Dance. Horse drawn wagon, food & refreshments.
Sunday May 4 - POLISH DAY - Polish Mass at St. Mary's Church in Wilno at 10:00 am in honour of Our Lady of Czestochowa, Queen of Poland. At 4:00 pm - Nabozenstwo Majowe also known as "Majowka" - a kind of Marian devotion. Potluck Supper at 4:45 pm.
Saturday May 17 - Heritage Display at Bay Day in Barry's Bay
Wednesday June 10 - Parliament Hill Celebration
Saturday June 14, 2008 - Special 150 Anniversary Polish Mass celebrated by Cardinal Dziwisz from Poland at 1:00 pm at St. Mary of Czestochowa Church in Wilno, Canada's Oldest Polish Parish founded by Polish Kashub Settlers.
June 22, Sunday - Polish Dinner at St. Martin of Tours Church in Whitney at 4:00p.m.
June 29, Sunday -150 Anniversary of Our Lady of Angels Parish of Brudenell with Ceremony of Dedication in the old cemetery at 1:00 p.m. followed by Mass of thanksgiving at 2:00 p.m. with his Excellency Rev. Michael Mulhall, Bishop of Pembroke & Father Grant Neville. Anniversary Dinner 4 p.m. This is the area's first parish where some original Kashubian pioneers were buried as the Polish parish of St. Stanislaus was not established until late in 1875.
JULY - SEPTEMBER - Exhibit celebrating 150th Anniversary of the Kashubs in Canada and the Polish Kashub Presence in Killaloe and area at the Hoch Farm Museum, Killaloe. Curated by Shirley Mask Connolly.
JULY & AUGUST - Exhibit celebrating 150th Anniversary of the Kashubs in Canada and the Polish Kashub Presence in Renfrew at the McDougall Mill Museum, Renfrew. Curated by Shirley Mask Connolly.
Saturday July 12 - A traditional evening Bonfire by the Polish Girls & Boys Scouts in Kaszuby - Celebrating the 150 anniversary of Canadian Kashub Culture, with songs, games, dances and history dedicated to the Kaszuby region and culture
Saturday July 26, 2008 - Parade through Renfrew celebrating the 150 Anniversary of the town of Renfrew. Includes float and parade walkers in costume celebrating the Polish Kashub presence "then & now" in Renfrew. Also main street Renfrew Storefront window display celebrating the Polish Kashub presence in Renfrew with items from the old Vice
/Weiss Store.
Friday August 1- Opening of two special Art Exhibits celebrating the 150 Anniversary of the Kashubs in Canada: Can(ada') Pol(ish) Kas(shubs) Can Paint: Can Polka, Can Paint featuring the descendants of Canada's Kashubs living and practicing as artists in the Ottawa Valley. Kashuby I Kaszuby- Reunited - a display of photographs from the Kashub regions of Poland and Canada by photographer Jim Blomfield. These special art exhibits run until August 24.
Saturday August 2 - Official 150 Anniversary Celebration at Kashub Heritage Park , Wilno - including special guests, a tent showcase of cultural heritage, the official opening of the heritage farmhouse, entertainment, food etc.
Sunday August 3 - Special Polish Mass of Thanksgiving at St. Mary's Church in Wilno at 10:00am with Monsignor Ambrose Pick celebrating the Mass, followed by a luncheon and a short concert in the basement of the church. Cultural Showcase continues at Wilno Heritage Park along with Open house at Museum and Skansen featuring guided tours of the Heritage Farmhouse, fiddlers on the porch for entertainment and much more. -
Sunday evening, August 3, at 7 pm. there will be a special Blessing at the Pioneer Cemetery of the old Polish Church of St. Stanislaw Kostka followed by a laying of flowers and/or lighting of candles on the graves of the pioneers.
Sunday August 3 - Supper St. Martin of Tours Catholic Church in Whitney
Sunday August 10 - Supper at St. Andrew's Church in Killaloe
Saturday August 16, 2008 - Dance at the old dance hall in Halfway - Fiddle & Guitar- Square dancing - Kashub meal after midnight.
Sunday, August 24 - Supper at Our Lady of Angels Church in Brudenell
Sunday, August 31 - The famous Wilno Chicken Supper - Starting at 1:00pm at St. Mary's Church in Wilno
Saturday Sept. 27 - Sunday Sept. 28, 2008 Rural Ramble Kashubian embroidery demonstration and quilt displays at e Wilno Heritage Park.
Sunday, October 12, 2008: - Polish Mass at St. Casimir's Church in Round Lake Centre conducted by Monsignor Ambrose Pick at 10:30am followed by their annual Beef and Bean Supper .
Sunday, November 2., 2008 - Supper at St. Matthew's Church in Madawaska
December 27, 28, 29 & 30, 2008 - Canadian Multicultural Hockey Tournament in Toronto - Our Kashubian Griffins will challenge for the Canadian Cup. A rematch game against the Polish Hussars. Polish culture vs Kashub culture. A fitting end to our 150 year celebration.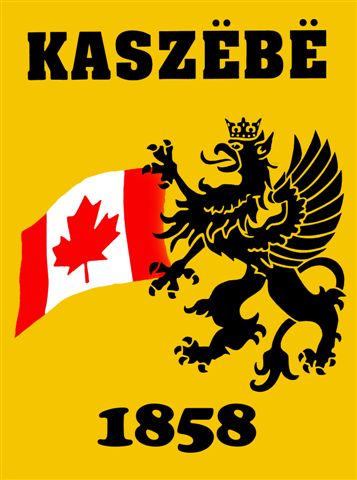 Also Kashub 150 Anniversary Exhibits & Displays: throughout the summer at the Mission House Museum in Combermere, the Hoch Farm Museum in Killaloe, the Champlain Trail Museum in Pembroke and the McDougall Mill Museum in Renfrew.Also a framed commemorative tribute to the 150 & the Polish Kashub Pioneer Parishioners of the Polish Hills in Quebec on display in St. Charles Borromeo Church, at Otter Lake, Quebec and of course very special displays at the Polish Kashub Heritage Museum/Skansen in Wilno.
The Griffin waving the Canadian Flag Logo was created for our 150th Anniversary by Wilno Heritage Society Executive Director, Ed Chippior. To learn more about the logo and the griffin symbol, CLICK HERE.
Special thanks to those who shared photos of the 150th Anniversary Events including Gerald Tracey from the Eganville Leader, Brian Braceland, Sharon Blomfield, George Pachulski, David Shulist, Ed Chippior, Shirley Mask Connolly, Jeff and Karen Connolly, Marian Gorlikowski, and many others.